What is KSYLF?
Where did Youth Leadership Forum's start?
The first Youth Leadership Forum for Students With Disabilities was created and held in California in 1992. The concept was developed by the California Governor's Committee for Employment of Disabled Persons. This highly successful program in California is an annual event which draws alumni back to work as counselors and volunteers helping students with disabilities learn and grow into successful adults with disabilities. As of 2018, approximately 35 other states have created a YLF.
The first annual Kansas YLF was held in the summer of 2001. Seven people from various agencies came together to form the Steering Committee. This Steering Committee worked about three years to get the first KSYLF going. Since then, Kansas has held twenty very successful forums.
The Kansas Youth Leadership Forum is...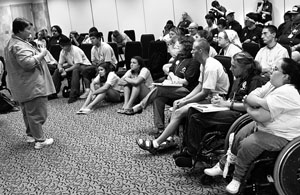 A motivational five day forum in which a group of about 20-25 high school juniors and seniors, with various disabilities, come together to learn about leadership, advocacy, and goal setting. Delegates and volunteers from all over the state gather on a local university campus to experience this intensive, resourceful conference. Through various small and large sessions, delegates are able to interact with, and learn from each other and successful adults with disabilities. Small sessions give delegates the opportunity to share experiences and explore personal leadership and career plans. Large sessions involve speakers in the community. These speakers address everything from disability history to advocacy, from goal setting to assertiveness. Other activities throughout the week include:
a Mentor Luncheon in which delegates are paired up with successful adults in their community. Usually the delegate is paired with an adult who has the same career interest and lives in the delegate's city. Delegates and their mentor are encouraged to engage in conversation over lunch.
a legislative activity in the State Capital Senate Chambers. Each delegate is able to sit at an actual Senator's desk and participate in some sort of activity related to the legislative process. Also included is a tour of the capital.
a barbecue at night, which gives all participants a chance to kick back and enjoy themselves.
an adaptive recreation session. This is typically held after the barbecue and, in past years, has involved a wheelchair basketball demonstration and boccia game.
a resource fair and Real Life Affair. Delegates learn about available technology and organization resources available to them. The Real Life Affair allows participants to experience the "real world" through a variety of stations.
a talent show, which gives delegates a chance to show off their individual abilities. They can either perform by themselves or perform with a group.
a farewell dance, which gives delegates an opportunity to celebrate their new friendships.
a graduation ceremony which has always brought tears to the eyes of everyone involved.
Why is KSYLF for students with disabilities?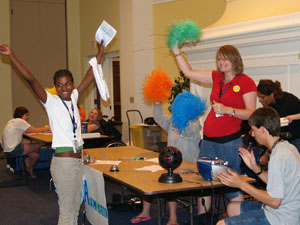 Young people with disabilities have more opportunities and more challenges than at any other time in our nation's history. With the Americans With Disabilities Act (ADA), they have great opportunities to fully develop as constructive, contributing members of our society. However, many need encouragement and information about resources to develop as leaders in their communities. Our forum enables them to learn from each other and from successful adults with disabilities who are recognized leaders and role models. Such a forum benefits not only the participants, but all young people with disabilities, our communities in general, and the adults who assist in producing the forum.
Who can attend?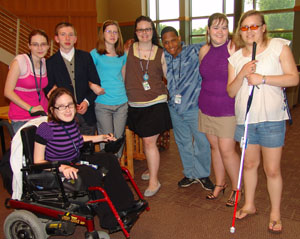 To be a delegate to the Kansas Youth Leadership Forum, students must:
be a junior or senior in high school, or in an 18-21 transition program, as of December 31 of the current year
reside in Kansas
have a disability (as defined with the Americans With Disabilities Act)
have demonstrated leadership potential or interest in their school and the community
The Application Process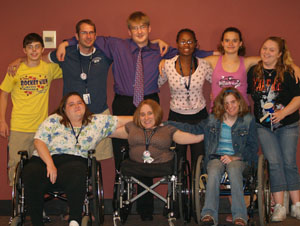 KSYLF delegate applications are distributed through various Kansas agencies and school personnel. All students who meet the above requirements are encouraged to fill out the application packet and send it back. The packet includes a four page application, as well as two reference forms and two essays in the form of the delegates choice (written, video, or audio). Once all applications have been received (by December 15 each year), the applicants will be interviewed by a panel comprised of a representative from the transition/employment field, center for independent living, as well a KSYLF alumni. The panel will then make recommendations and chosen delegates will eventually be notified of their acceptance by a letter sent through the mail. Those delegates not selected will be asked to serve as alternates. After being selected, students will be asked to fill out a confirmation form and provide additional information to the KSYLF staff.
The application process to becoming a delegate is a very selective process. Delegates are chosen based on their leadership ability or potential, as well as involvment in the community. Geographic location, gender, and disability type are also considered to ensure diversity amongst the delegates. For more information, visit the Upcoming KSYLF section of this site.
What is the cost?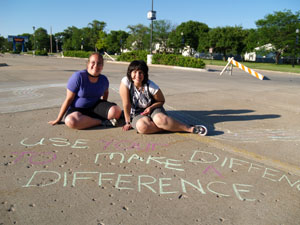 There is NO cost for delegates or volunteers to attend the KSYLF. All appropriate expenses will be paid by KYEA including lodging, food, interpreter for students who are deaf, personal care attendants, and other accommodations, if needed. Parents or guardians who can provide transportation for their youth to attend KSYLF are encouraged to do so. Transportation services can be arranged by KYEA staff, if needed. We feel that all students should have the opportunity to attend the KSYLF no matter what their financial situation. Some delegates choose to bring some money of their own to buy souveniers, extra snacks, etc.
The Future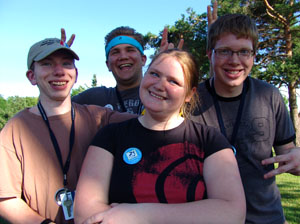 The future of the Kansas Youth Leadership Forum looks very bright. The forum is produced on an annual basis. Twenty very successful forums have already been completed, and we had also held two reunions. As each year passes, we grow, change, expand, and make improvements to the program.
All KSYLF delegates who have gone through the program may apply to return as staff two year's after graduating. Having alumni return as volunteers adds a new flavor to the week. Alumni are able to serve as role models and share their experiences. Most graduates look forward to contributing to the future of KSYLF.
We continue to implement various ways for alumni to keep in contact including this website, future reunions, Facebook contact, etc. We definitely look forward to many successful years to come!