E-Newsletters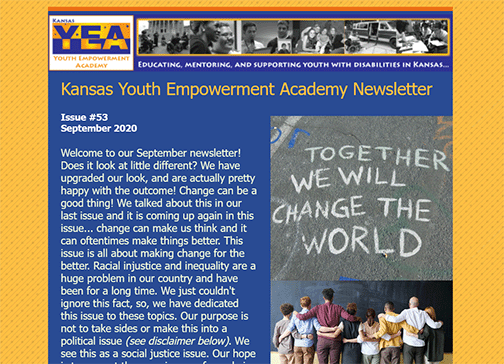 Our newsletter is typically published four to five times a year through an email list serve. It contains the latest information on KYEA news, upcoming events, opportunities, and more in our state and nation! The newsletter focuses specifically on events and information that pertain to youth with disabilities. To be added to our list serve, please click the sign up icon below or email Carrie at carrieg@kyea.org.
Our Issues
Click below to read the corresponding issue of our e-newsletter.
WARNING! A new window will appear.
May 2023 NEW!
September 2021 - KS Beats the Virus Special Edition
November 2011
December 2009
August 2009
March 2009
November 2008
July 2008
February 2008
November 2007
August 07 - Pt 2
August 07 - Pt 1
April 2007
February 2007
December 2006
November 2006
August 2006
July 2006
April 2006