KSYLF Sample Agenda
The KS Youth Leadership Forum is a full, intense week of fun and empowerment! The agenda is based on the original California model of this program, but has been updated, over the years, to fit Kansas youth. Each year, our schedule changes slightly, but the basic sessions and topics return every year. Below is a sample agenda for a typical KSYLF week.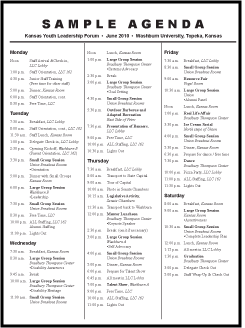 View the PDF version
*see note below
NOTE: The brochure file is in PDF format. You must have Adobe Acrobat to read PDF files. Download the free version by clicking on the logo below.